Upper Valley Medical Center (UVMC) and Lincoln Community Center in Troy have collaborated on many projects over the years, but none have gone beyond the centre's long-awaited expansion plan.
The Lincoln Community Center (LCC), tucked away in an area of ​​Troy between West Main Street and McKaig Avenue, has a long history. The 1939 center building, expanded by over 21,000 square feet in this project, shares the foundation and footprint of a one-room school built in the late 1800s for African American children in Troy. Today, the center serves a diverse community of all ages, from preschoolers to seniors, with activities such as basketball, pickleball, swimming, art classes, yoga, a after school program, volleyball, lunch program and many more.
Completion of the nearly $ 4 million expansion was unveiled in August, the result of the centre's highly successful Legacy fundraising campaign. The campaign lasted for nearly two years, in part because of the COVID-19 pandemic, and received nearly 500 donations and gifts.
To help provide space for the center to continue its legacy and services, UVMC's board of directors has committed $ 1 million from its community benefits fund.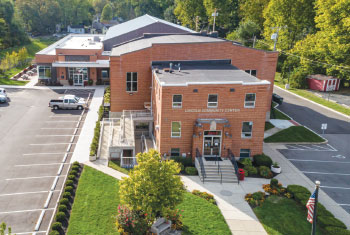 "The new Lincoln Community Center expansion is an example of what we can accomplish when the community comes together to educate, inform and uplift the Troy community," said Shane Carter, executive director of the center. "The Lincoln Community Center had a meeting with the UVMC leadership team and discussed the long relationship between the two. The core values ​​of LCC and UVMC align, as we both find diversity and inclusion essential in our community. UVMC and LCC partner to promote a strong and healthy community and partner with community outreach programs throughout the year, "said Carter.
"UVMC has been a partner of Lincoln Community Center for many years. Both organizations can trace our mission-oriented service to the community for over a century, "said Kevin Harlan, President of UVMC. "We congratulate Shane Carter and his team for their extraordinary work in making this dream come true. He is truly transformative and positions the center for much more good work in the decades to come. "
The commitment of UVMC's board of directors has been invaluable to the project, Carter said. "UVMC was a major donor and their contribution to the campaign and the whole project was vitally important. It was an essential element in carrying out this project, as well as in attracting a large group of donors, "he said.
"Our Board of Directors is committed to supporting like-minded organizations that share UVMC / Premier Health's mission of building strong and healthy communities," said Steve Staley, Chairman of the Board of Directors of UVMC. 'UVMC. "We are delighted to have helped make this great expansion a reality.